Suggested commercial activities: I would be less than honest if I promised that you'll get rich as a rancher, but if you have the inclination, the terrain and climate lend themselves perfectly to the raising of cattle, horses, alpacas etc. Bee-keeping, if you know how (this region produces some of the best honey in the world), and trout-breeding are other possibilities as are nurseries and plantations.
As for pastimes, the "fundo"offers an unlimited scope for:
horseback riding. (Many visitors have commented that a more ideal terrain simply doesn't exist.)
trout-fishing. ("Rio Manio", the principal river, traces its sources to the high mountains of the "fundo", and constitutes its border for over 10 miles. It has been described by experts as the purest and best dryfly-fishing river in the region.)
hiking. (Literally tens of miles of trails....)
bird-watching. ("El Sombrero" is truly an ornithologists dream, with an astounding bird population from parrots and hummingbirds to ibises and kingfishers, in short everything from eagles to snipes - including many species unique to the area, like the "hued-hued" and "chucao". The flora is just as endowed with variety, as one would expect from the great Southern temperate rainforest).
hunting. ("Javali" or wild boar is plentiful on the ranch, as are partridges, wood pigeons, hares and foxes. Other animals found on the "fundo" that will not be shot include puma, "coipo" -local beaver, and "pudu" -world's smallest and possibly rarest deer.)
Among other activities outside but nearby the "fundo", I should mention boating/sailing and all other water sports on Lago Panguipulli (less than 2 miles away), canoeing and rafting on the "Rio Fui" (1hour's drive), snowskiing at several adjacent resorts (high season May - August, although it's possible to ski year around) and even golf (a neighboring "fundo" has a nine-hole course, complete with a honor-system bar!).
Now, the only way that you can decide if you'd like to join "The Club of Ten", is to visit us. As such we offer you the opportunity to inspect the "fundo", do all the riding you'd ever want and spend a relaxing week at the Club house for the all-inclusive price of $750/person. We'll pick you up for the 2-hour drive from Temuco airport and send you back, and even the (wonderful Chilean) wine with your meals is included. The only extra expense you should have is the airfare (about $600) and drinks outside of mealtimes. We will accept reservations for a maximum of four persons at a time from the 1st of September '02 onwards.....and, the best part is that if you do decide to join, the cost of your vacation will be applied to the purchase price!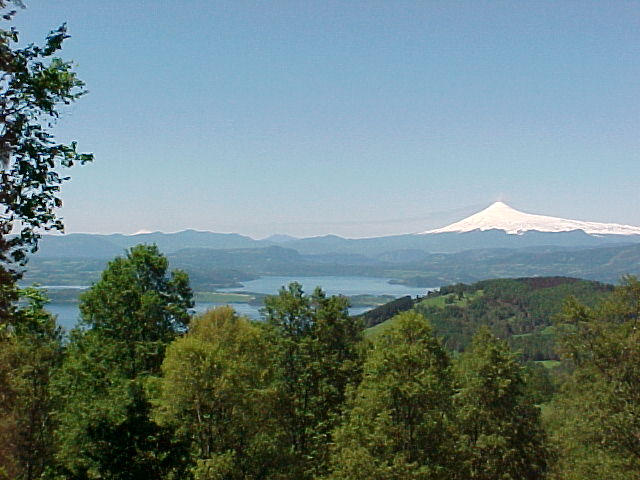 How (and how long) to get there after a 12 hour flight from the States or Europe.